Antimicrobial Writing Pens

The Germ Fighting Writing Pens

Introducing Antimicrobial Writing Pens With PrevaGuard
Antimicrobial Writing Pens With PrevaGuard incorporate an antimicrobial preservative which suppresses growth of bacteria, algae, fungus, mold and mildew on the pen's surface. The EPA-registered antimicrobial additive is molded directly into the pen's plastic components during the production process, ensuring effective and long lasting protection. Many office products are susceptible to harboring microbes, and it is difficult to keep these surfaces sufficiently clean. Antimicrobial Pens are designed to help mitigate the spread of unwanted microbes for essential locations like health care facilities, pharmacies, health fairs, hotels, banks, school or office events, retail stores, and more.
Benefits of the PrevaGuard Antimicrobial Additive:
Anti-Microbial Surface - helps fight unwanted microbes
Antimicrobial Treatment - Protects pen by suppressing bacteria, algae, & fungus
Enhances product freshness, fights undesired odors, staining, and product degradation
Durable - Antimicrobial treatment should last the life of the pen
Sanitary - reduces microorganisms between cleanings
Effective and Long-Lasting Protection
Economical - one of the most cost effective pens around
Vivid Printing
Great for Point-Of-Purchase Areas
Can Be Combined with Antimicrobial Mouse Pads and Counter Mats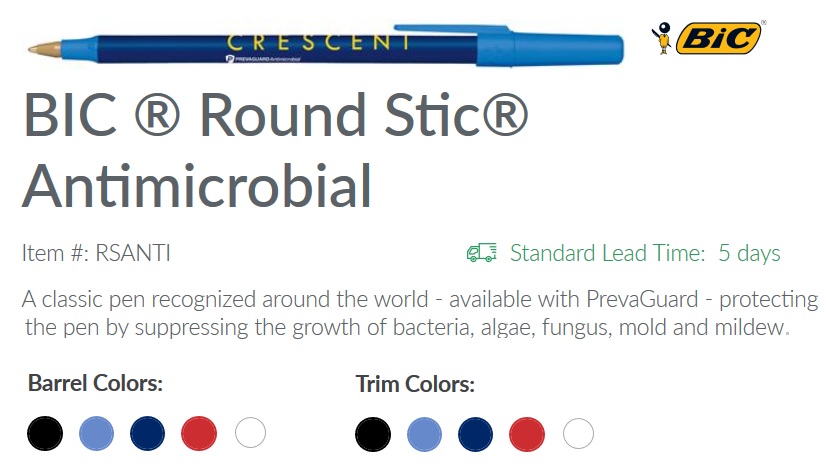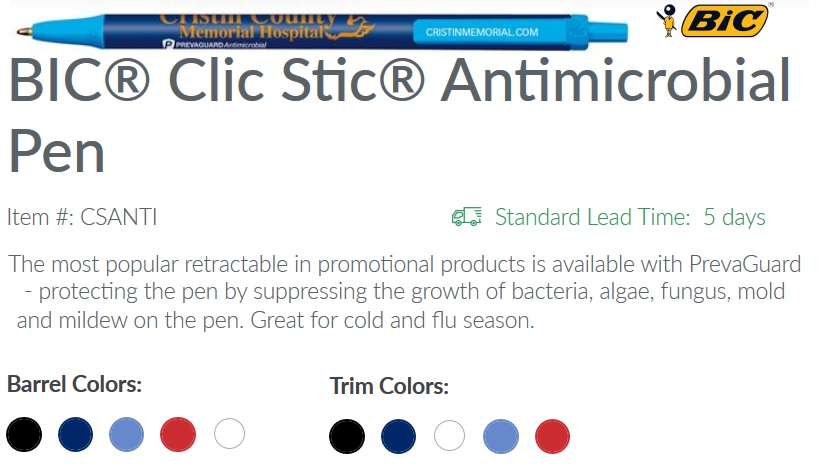 Applications:
Use in hospitals, schools, health care facilities, restaurants, hotels and hospitality industry, banks, credit unions, and more. The anti-microbial surface inhibits the growth of microorganisms, such as bacteria, that can cause stains, odors and product degradation. Antimicrobial protection is available in mouse pads, counter mats, keyboards, computer mice, accessories, and more. Use anywhere you need an antimicrobial agent or antimicrobial protected surface.