Restaurant Beverage Mats • Drink Mats
Our BAR MATS, BAR RAIL MATS, DRINK MATS, AND WAITRESS STATION COUNTER MATS are the most durable and water-proof counter mats around. As product branding takes on new mediums, we bring you MOLDED VINYL COUNTER MATS, an innovative way to put your brand ahead of the others. Available in a wide variety of styles and configurations, custom printed bar mats are an affordable way to captivate your target audience.
BetterMousepads.com has led the way in offering new and innovative point-of-purchase counter mat products. We now introduce our new multi-colored, rubberized bar rail mats. Product selection includes runner mats as long as 10 feet, Chang'ble Mats™ that allow the advertisement to be changed as needed, mats with multiple windows, and counter mats that incorporate photo quality graphics.
Besides fully customized mats, we offer stock bar mats, counter mats and floor mats. We also have stock molds with areas that can be customized. This offers a cost savings over a completely custom project by using a custom "insert" that fits in the customizable area of our stock mold. Contact us for more details.
All molded vinyl barmats are manufactured using a proprietary formula to produce a tough, rubberized vinyl with all the colors molded in... NOT painted or printed. And we can match virtually any color.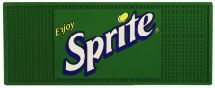 6" x 15" - Bar Mat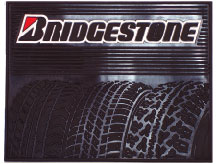 11" x 14" - Counter Mat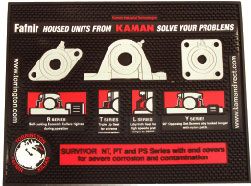 17" x 22" - Counter Mat

21" x 3.5" - Bar Rail Mat