Recycled Counter Mats
Eco-Friendly Recycled Counter Mats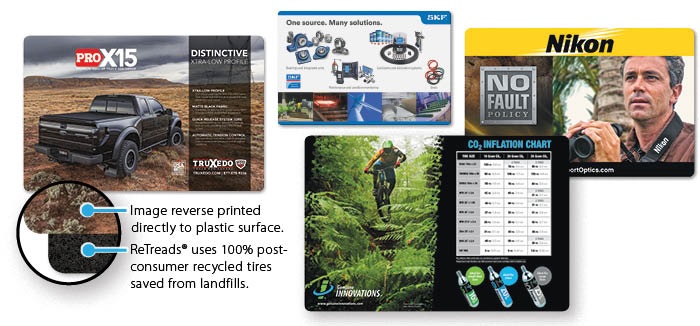 Our Eco-Friendly Recycled Counter Mats are covered with durable heavy duty vinyl and backed by non-skid recycled rubber. The base is 100% post-consumer recycled material, latex-free (contains SBR synthetic rubber), and 3/32" (2mm) in thickness. It is covered with a durable scrtach-resistant Vynex surface. The durable textured polymer surface protects your image while allowing it to POP in brilliant color and detail. For a colorful, durable, green promotion, consider ReTreads™ Recycled Tire Rubber Counter Mats.
Surface Options:
Heavy Duty Vinyl
Base Options:
3/32" Heavy Duty Recycled Rubber Base
Size Options:
10"x15" • 11"x17" • 12"x18" • 13"x19" • 14"x19", 16"x20" • 17"x26" • 19.5"x28"
Custom shapes and sizes available

---
Recycled Desk Pads and Gaming Mats


This large format Desk Mat and Gaming Pad is made from recycled rubber and polyester. The 31.5" x 11.75" Recycled Desk Mat transforms any desk into a softer-on-the-elbows, eco-friendly, mouse-friendly, space for your brand to shine. This modern desktop accessory is packaged in a beautifully designed tube offering a unique, delightful unboxing experience as the recipient unrolls the Recycled Desk Mat to reveal the artwork.
Material: Recycled Rubber And Polyester
Standard Packaging: Custom Decorated Box
Product Size: 31 1/2″ W x 11 3/4″ H x 5/64″ D
Imprint Area: 31.5″ x 11.75″
Eco-friendly - Made from recycled materials
Rolled and packed into a beautifully designed tube
Desk Mats are decorative and functional desktop accessories
Makes a great large size Gaming Mat
Great for executive gifts
Quantity discounts available